Summer is a great time to work on your tan at the beach and by the pool. But, rather than completely tuning out, why not take your mind to new destinations during your downtime? Just because you're relaxing doesn't mean that you can't low-key work on being a boss.
Our challenge to every mom who reads this: Select 3 Books from the list below, and commit to completing them before Labor Day.
Think of it as a journey of self-improvement from the comfort of your beach chair. When summer ends, and the kids go back to school and work ramps up, you'll be better equipped to take on the challenges you encounter. I also like to believe the kids will pick up on your good example!
In no particular order, here are our top picks!
ALSO: Download A FREE BOOK When You Sign Up For A FREE Audible Trial. Learn More HERE.
1. The Subtle Art Of Not Giving A F*ck – by Mark Manson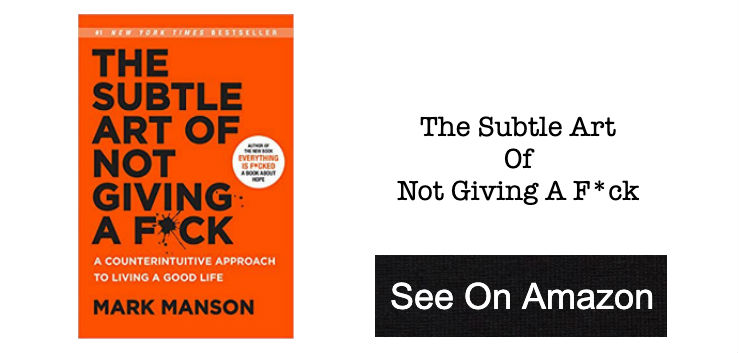 A MUST READ. As someone who spent many years giving far too many F's about far too many things in my life, I highly recommend you read this book. It's actually my top pick. The central idea is there are only so many things we can give a f**k about so we need to figure out which ones really matter.
It's an easy read, but when you're finished, you'll not only understand how to not give a F*ck with class, but how to not feel an ounce of guilt for doing so. You'll check your pocket and to your surprise and delight, realize you have no more F*cks left to give. Highly recommended.
2. Educated: A Memoir – by Tara Webster
Educated: A Memoir is a collection of harrowing personal accounts by Tara Westover.
Westover grew up in a survivalist, abusive family. Some of the accounts of the dysfunction that existed in her family are absolutely horrific. It's a story about recognizing abuse, dysfunction, and gaslighting, and having the strength to overcome it.
A must read for any woman whose life has been affected by abuse.
3. Lean In: Women, Work and the Will To Lead – by Sheryl Sandberg
If you haven't read this book before, the time is now.
Sandberg is the COO of Facebook, and has been a key leader in the conversation regarding women in the workplace. In 2010, she gave a compelling TED talk in which she described how women unintentionally hold themselves back in their careers. That TED talk received well over 6 Million Views, and encouraged women to "sit at the table," seek challenges, take risks, and pursue their goals with authority.
Lean In continues that conversation using anecdotes, data, and research to craft a compelling case for why all women need to take charge. This is a must read for all women who value personal growth in professional as well as personal life.
4. A Woman's Worth – by Marianne Williamson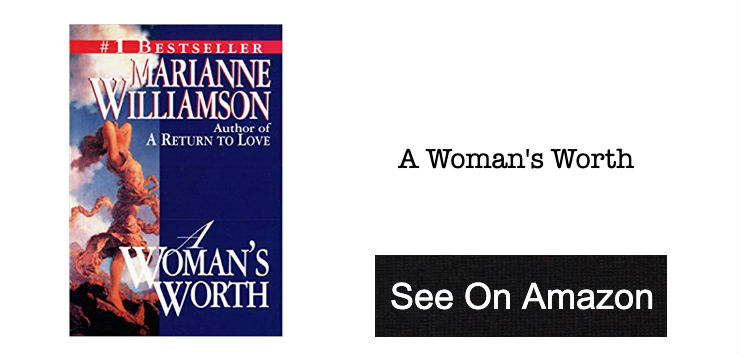 If you've been following the Democratic Primary this year, you may be familiar with Marianne Williamson. Williamson isn't a polished politician, but rather comes from a background of writing, public speaking, and activism.
One of Marianne Williamson's earlier books, but very highly acclaimed. If you've never read it, you should. Williamson has been the subject of a few viral moments as of late, but has many great ideas.
The purpose of this book is to challenge and help women find their inner Goddess. We all have one in us, but aren't always given the tools to bring her out. A Woman's Worth helps you do just that with a deep, soulful, reflective style.
5. Girl, Stop Apologizing – by Rachel Hollis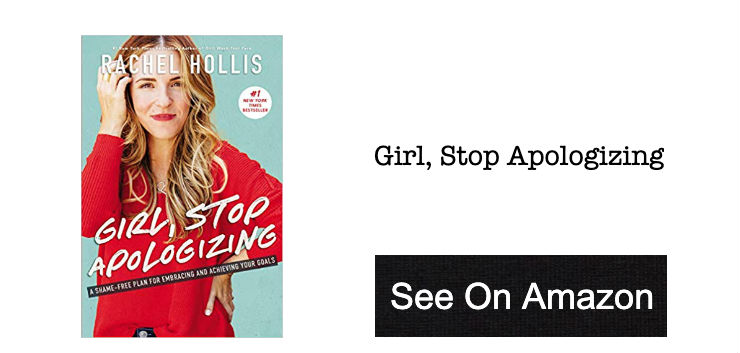 "I believe we can change the world. But first, we've got to stop living in fear of being judged for who we are."
This quote captures the sentiment of Girl, Stop Apologizing perfectly. One of the central cases Hollis makes is that women too often define themselves in the context of their relationships with others (wife, mother, daughter, or employee) and with that comes a great deal of weight, which can manifest as shame when focusing one your own needs & goals. I relate to this profoundly.
Hollis dissects the topic masterfully, and also offers a blueprint for identifying excuses and toxic behaviors, so women can leave them behind and truly become who they are meant to be through achievement.
6. You Are A Badass – by Jen Sincero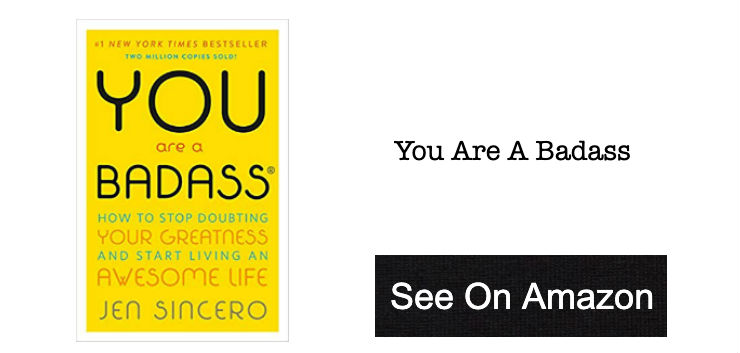 My favorite quote from the book: "I am talking about continuously living your dreams, no matter what stage of life you're in, instead of settling for mediocrity because we don't believe anything else is available or appropriate."
Yes, you are, and this book explains why. And in the spirit of speaking to the readers as the badasses they are, the tone of Sincero's book is one of sassy and blunt advice on how to live an awesome life.
I particularly enjoyed the cutting humor employed throughout the book – it makes it an entertaining and easy read. It's extremely relatable for anyone who has had days in which they've struggled with depression, anxiety, or self-doubt.
Also Check Out: You Are A Badass At Making Money, and You Are A Badass Every Day.
7. Dare To Lead – by Brene Brown
"Integrity is choosing courage over comfort."
It doesn't matter where you are in life, leadership skills are something that we can always benefit from. Whether at work or in your home, we should all strive to have the ability to lead.
Pay special attention to pages 70-80. In my opinion, these pages artfully and eloquently lay out feelings we've all experienced that can act as barriers to our leadership success, but then Brown also goes on to offer a blueprint for living more constructively.
8. Rose Madder – by Stephen King
I took the liberty of slipping in this horror-fantasy novel from the master of scary stories himself, Stephen King. It's actually a fairly old book, and certainly one of King's lesser known works, but it's one of my favorites.
Rose Madder is a story about a woman who is an extremely abusive relationship. Although there are supernatural elements involved, the core of the story is a woman who breaks away from her abusive spouse and will never go back… at any cost.
I won't spoil too much – just read the book. Trust me.
9. Everything Is F*cked: A Book About Hope – by Mark Manson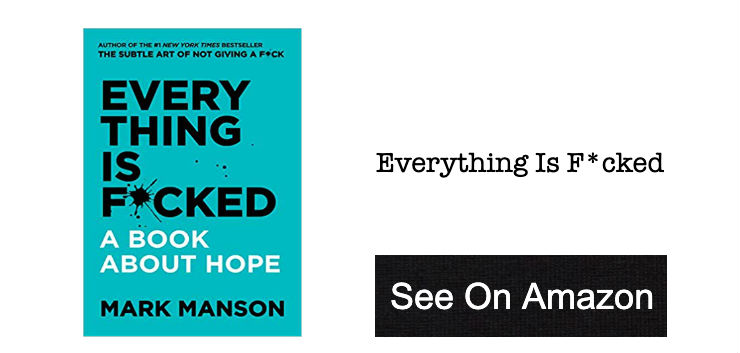 Mark Manson made our summer reading list twice because, well, his work is fantastic.
"Mark Manson continues to break down questions about human happiness and well-being in creative and unexpected ways. The result is a wonderfully accessible book that tackles some of the deeper questions about where our world is headed, as well as how to take better care of ourselves (and each other) until we get there." (Scott Barry Kaufman, PhD, Professor of Psychology at Columbia University and Host of The Psychology Podcast)
While The Subtle Art focused on internal struggles and perceptions, Everything Is F'ed shifts its focus to external stressors and how to deal with them. Using a combination of humor and peer-reviewed psychology research, Manson provides a great roadmap for taming the chaos in your life, even when you can't control it.
10. Salt, Fat, Acid, Heat: Mastering The Elements Of Good Cooking – by Samin Nosrat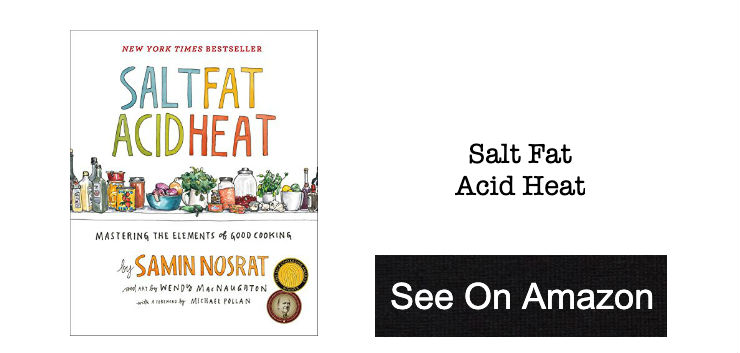 Ditch the recipes and learn how to truly prepare food.
I read this book fairly quickly (about 1 week), and I immediately found myself approaching food preparation with a completely different mentality. You can genuinely make anything taste great if you understand the fundamental elements of cooking and how they influence the taste of your food. No fancy recipes required!
It's also written in a lighthearted, humorous way, rather than the clinical style some cookbooks are are written with, and there are visual aids to make the lessons even easier to digest (pun intended!).