I love mustard. I love ice cream.
I frequently slather the former on Hot Dogs, Hamburgers, and other summer delights. The rest of the year it makes frequent appearances on my sandwiches. The latter typically follows shortly after. But, what if there was a way to combine the two? Well, thanks to French's… now there is.
In case you didn't know, August 3rd is National Mustard Day. In celebration of this esteemed holiday, extremely American condiment company, French's, has teamed up with the ice cream company Coolhaus to create something truly special. How's that for a dream team?
So why did they make this ice cream? Well, because marketing, but also because America. If combining ice cream and mustard and even including a pretzel doesn't scream F-R-E-E-D-O-M, I don't know what does.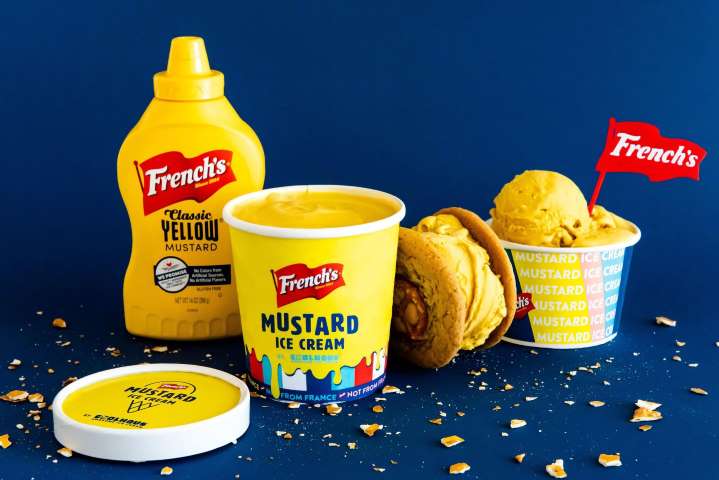 In the Coolhaus Press Release, CEO & Founder Natasha Case said:
"As lovers of sweet-meets-savory, pure ingredient, and unique creations, we are incredibly excited to be collaborating with French's Mustard in creating this one-of-a-kind product. It's been so fun to explore this classic condiment in a whole new way and create an unforgettable thoughtfully-crafted ice cream flavor with an All-American taste."
There's a pressing question, however – what does it taste like? Does mustard ice cream taste like mustard? Does it taste like ice cream? The adventurous souls over at People did some digging, and here's what they had to say about the taste:
"The initial flavor you experience is not mustard, but sweet hints of cotton candy and bubble gum ice cream… The general consensus is that we didn't hate it. I weirdly kind of works, in its own special way."
So there you have it, moms. Yes, Mustard Ice Cream is a real thing, and surprisingly it kinda, sorta, weirdly works. I for one am a huge fan of these types of mashups. Hotdog ice cream, anyone?